Nature Sapiens @ JenaTV
Humans and Nature in the 21st Century
Fiction
Argentina
direction:
Andrea Dargenio
Some people enjoy a refreshing life without water.
Experimental
Austria, Germany
Man-made but no person is to be seen: an artificial agricultural landscape in an American desert.
Documentary
Germany
direction:
Gisela Carbajal Rodríguez
Technology is hungry for Lithium causing damage to the environment, people and llama population of Argentina.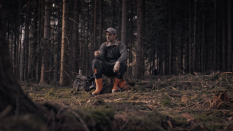 Music Video
Germany
direction:
Mark Othmer, Bita Steinjan
The dance of becoming one with nature.
Animation
Czech Republic, Slovakia
Save the pandas! But do we know what they really need?
Experimental
Germany
direction:
Mirjam Dahl Pedersen
Find peace in nature - a relaxation therapy with colours, movements and sounds of a forest.