Late Summer Cinema at the Kulturschlachthof
Documentary Special "War Whispering"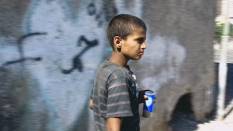 Israel
direction:
Helen Yanovsky
Childhood without space – Portrait of a boy who grows up in militarily controlled Hebron.
Netherlands
direction:
Moth Collective
Puberty under the guise of the Yugoslav War – Animated documentary about a reunion.
USA
direction:
Courtney Marsh
The story of Chau, who suffers from the aftermath of the Vietnam War and dreams to be an artist some day.
Belgium
direction:
Juanita Onzaga
Crocodile people and ghosts – memories of a massacre become mystical reality.
One person's suffering is another's pleasure – The Russian sanctions establish a new existence.